Raad Al Shamal is the champion of the Kingfish season in the Abu Dhabi Championship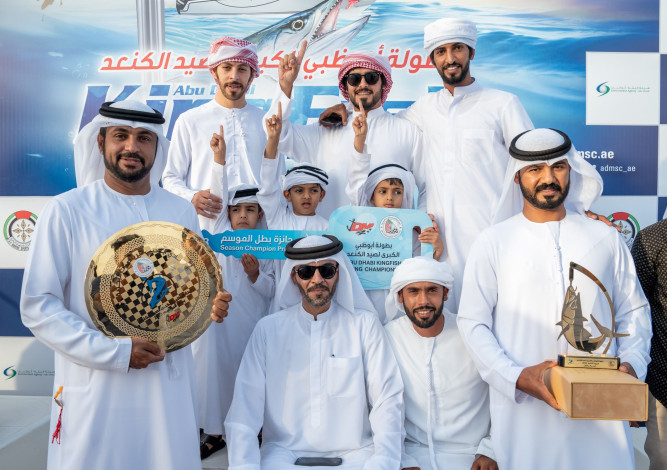 AbuDhabi 22 May 2023:The Abu Dhabi Marine Sports Club crowned the winners of the final round of the Abu Dhabi Grand Kingfishing Championship, in addition to honoring the season's champion at the club's headquarters on the breakwater in the capital, Abu Dhabi. The final round lasted for four days, during which more than 400 boats participated in the attempt to reach the highest weights to win the first positions.
Bakhit Khamis Al-Mansoori of the Thunder of the North team won the title of the season by reaching the highest number of points from the total of the two rounds, which is 120 points, to top the general standings, and to achieve the title of the most popular championship among the fans of sailors and boatmen in hunting kingfish.
Wadhafar won the title of the final round of the tournament, Bakhit Khamis Al-Mansouri, with a weight of 29.65 kilos, and Abdul Fattah Al-Marzouqi from the Al-Tayyar team came second with a weight of 27.29 kilos, and Khamis Muhammad Al-Ghailani from the Al-Tayyar team also achieved the weight and weight.
Bakhit Al-Mansoori achieved the season championship title after reaching the 140th point in a total of two rounds to win the electric car prize that was allocated to the season champion and presented by Delma Marine.
The honorees were honored by Salem Al-Rumaithi, General Manager of the Club; Ayoub Al-Khaja, owner of Delma Marine Company; Youssef Al-Zaabi, Director of the Support Services Department at the Club; Nasser Al-Dhaheri, Head of the Modern Racing Department, and Khalifa Al-Rumaithi, Head of the Heritage Racing Department.
For his part, Bakhit Al-Mansoori expressed his great happiness at achieving the season title and winning first place in the closing round. He said: It was a very difficult competition between me and my fellow participants, and the closing round came at a time that posed a challenge to all participants. I managed to catch the biggest fish in the third round. During the tournament days and in the morning, Bakhit Al-Mansoori added: I felt that I would take first place and achieve the season title, especially since the heavyweights in this round were a great challenge for the participants.
Bakheet Al-Mansoori praised the organization of the club, the racing department, and the laws that were put in place for the competitors to reach the championship for the best level. The summit of impartiality and justice among all participants.