THANI EYES DOUBLE TARGET AS SARDINIA SETS NEW TEST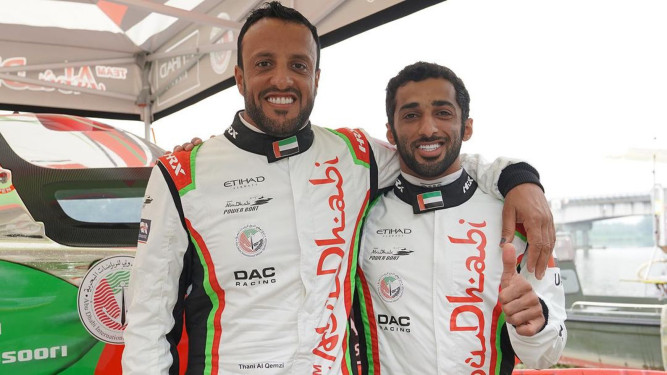 Team Abu Dhabi veteran aims for repeat victory in Olbia, with sights also on team crown
Olbia, Sardinia, 27th September, 2023: There is little that Thani Al Qemzi has not achieved in a remarkable UIM F1H2O World Championship career, and the Team Abu Dhabi star wants to add to his haul of achievements in this weekend's Regione Sardegna Grand Prix of Italy.
The veteran Emirati driver reached the 150 Grand Prix milestone at the previous round in France, marking it with a 44th podium finish, and is back in Sardinia at the scene of a record-breaking performance last season.
After setting the first sub-30 second lap time in F1H2O history to clinch pole position in Olbia last October, Al Qemzi powered his way to a tenth career Grand Prix victory, and he wants a repeat performance on Sunday.
"That has to be the target that I start with, because I know I can win, I have a great boat, and I have a great team behind me," said Al Qemzi, who relishes the prospect of another battle with Jonas Andersson, as the Swede looks to clinch a second world title.
"Of course, it will be very difficult, especially with Jonas looking so strong this time. But I always have a lot of belief in myself, and the team, and we're going to give it everything we've got."
Twice a runner-up in the F1H2O drivers' title race, most recently to Andersson two years ago, Al Qemzi has on six occasions finished in the bronze medal position
That will be his minimum expectation this time, as he returns to action in Olbia lying fifth in the championship, with December's final round awaiting in Sharjah.
The other big target is to secure a sixth successive F1H2O world team title this season, with Team Abu Dhabi currently in third place, trailing Team Sweden by five points and Sharjah Team by two.
After securing his fourth F2 world title in Portugal earlier this month and signing off with another Grand Prix win last weekend, Rashed Al Qemzi has stepped up again to partner cousin Thani, and is ready for a fresh challenge.
That includes a new race format introduced in Sardinia, which sees even and odd numbered boats split into two groups for Friday's free practice, 30-minute qualifying sessions on Saturday morning, and separate 15-minute Sprint races in the afternoon.
The top seven from each group qualify for Sunday's Grand Prix, provided that they finish the Sprint race, and complete at least 70% of the laps.
If less than seven boats from either group qualify, two final Grand Pix starting positions will be determined by a 20-minute Sunday morning Repechage session.
UIM F1H2O World Championship leading positions
1. Jonas Andersson 43pts
2. Erik Stark 28
3. Ferdinand Zandbergen 27
4. Bartek Marszalek 20
5. Thani Al Qemzi 19
6. Peter Morin 18
7. Shaun Torrente 17
8. Sami Selio 15
9. Filip Roms 11
10. Brent Dillard 11