TEAM ABU DHABI BATTLE TO KEEP TITLE HOPES ALIVE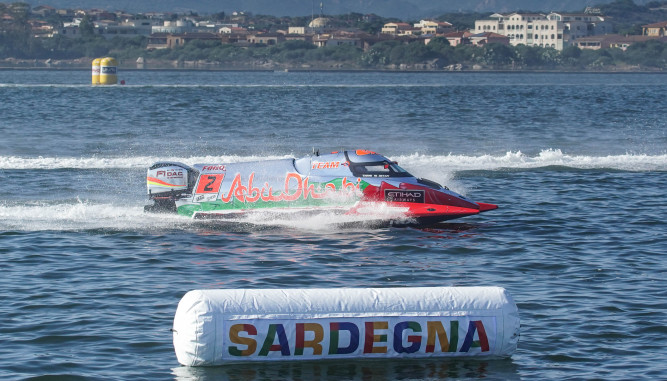 Emirati duo ready for big fight in Sardinia to keep team crown within reach
Olbia, Sardinia, 30th September, 2023: Team Abu Dhabi's Thani Al Qemzi and Rashed Al Qemzi are prepared for a big fight in Sardinia tomorrow to keep alive their team title hopes in the 2023 UIM F1H2O World Championship.
While Sweden's Jonas Andersson can clinch the drivers' crown with victory in the Regione Sardegna Grand Prix of Italy after securing pole position today, the two Emirati cousins are still battling to deliver a sixth successive team triumph to the UAE capital.
Their case was helped when mechanical problems put Finn Sami Selio out of action in today's revamped qualifying phase, damaging the challenge of Sharjah Team who are sandwiched between Andersson's leading Team Sweden, and the Abu Dhabi duo in third place.
Andersson won the first of today's two group sprint races that have been introduced as part of an all-new Grand Prix qualifying format, dominating the 20-laps ahead of his two chief title rivals, Victory Team's Erik Stark and Sharjah Team's Ferdinand Zandbergen.
Team Abu Dhabi's Thani Al Qemzi, pole position setter and Grand Prix winner in Sardinia last year, finished in fifth place.
Italian Alberto Comparato then secured the second group sprint race ahead of Frenchman Peter Morin and Finn Filip Roms, with Rashed Al Qemzi taking fourth place.
The final Grand Prix qualifying order, including pole position, was initially thrown into confusion because of a yellow flag towards the end of the first sprint race which affected the finishing times.
But Andersson was later named in pole position with the fastest lap time from the two sprint races, ahead of Comparato, Stark, Morin and Zandbergen. Rashid Al Qemzi qualified in seventh spot, with Thani Al Qemzi in ninth.
After securing his fourth F2 world title in Portugal earlier this month and signing off with another Grand Prix win last weekend, Al Qemzi has stepped up again to partner his vastly experienced relative, and is clearly ready for a fresh challenge.
The move from F2 to the F1H2O World Championship is a significant one, particularly when it comes to handling the intense pressure generated at the sharp end of qualifying and race action, and a crucial final round to follow in Sharjah in December.
No-one understands this better than Team Abu Dhabi manager Guido Cappellini, who fought his way to ten F1H2O drivers' titles, and is mentoring the younger Al Qemzi to follow in the footsteps of his illustrious cousin.
Rashed has made only fleeting F1H2O appearances since his debut in Sharjah in 2016. But he settled quickly into the rapid pace of things in Sardinia, recording the fastest time in Friday's Group B free practice session after championship leader Andersson had set the pace in Group A.
The Emirati looked to have produced a repeat performance in Group B qualifying, before his fastest lap was ruled out for an infringement, and he eventually finished third to Comparato and Morin.
UIM F1H2O World Championship leading positions
1. Jonas Andersson 43pts
2. Erik Stark 28
3. Ferdinand Zandbergen 27
4. Bartek Marszalek 20
5. Thani Al Qemzi 19
6. Peter Morin 18
7. Shaun Torrente 17
8. Sami Selio 15
9. Filip Roms 11
10. Brent Dillard 11