ITALIAN DI MARTINO STAYS ON GOLD MEDAL COURSE IN ABU DHABI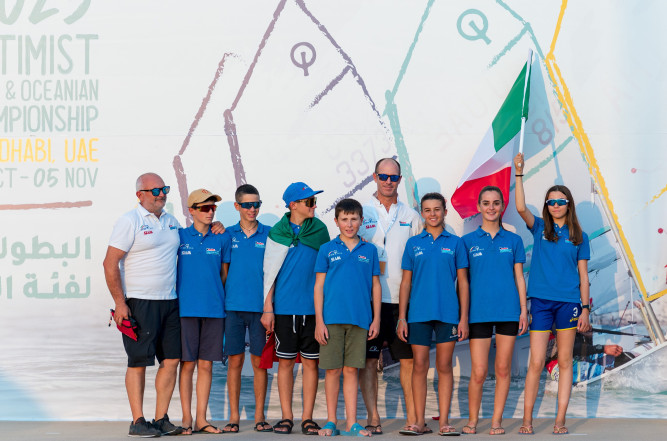 Abu Dhabi, UAE, 2nd November, 2023: Italy's Mattia Di Martino stayed on gold medal course at the 2023 Optimist Asian and Oceanian Championship in Abu Dhabi today, despite losing his impressive 100% winning record.
After recording four successive victories over the first two days of the international regatta, Di Martino had to settle for a tenth place finish today in a race won by Australian Augustas Buividas.
It was still enough, however, to see the young Italian retain his overall lead from Spain's Joan Domingo, who followed up a third win today with a tenth place result.
That came in a race won by Thailand's Chanatip Tongglum, whose second victory of the regatta lifted her to third place in the overall standings at Abu Dhabi Marine Sports Club (ADMSC).
Italian Pietro Lucchesi climbed to 13th position with a first win in Abu Dhabi, taking victory ahead of Singapore's Ethan Ethan, silver medallist at last year's South East Asian Games, and Turkey's Derin Değişen.
The day's final fleet race saw Hong Kong's Zihan Liu move to 12th in the standings by crossing the finish line ahead of Singapore team-mates Lucas Cao and Nicole Lim.
Sponsored by Abu Dhabi Ports and Al Mariah Bank, the regatta is being hosted by ADMSC in cooperation with the UAE Sailing and Rowing Federation, the Asian Sailing Federation, and Abu Dhabi Sports Council.
The event is the continental championship for Asian and Oceanian nation members of the International Optimist Dinghy Association, which oversees the fundamental class in the world of sailing for the 7-15 year age group, and is marking its 50th anniversary.