USA CLAIM TEAM GOLD IN ABU DHABI AS INDIVIDUAL BATTLE HEATS UP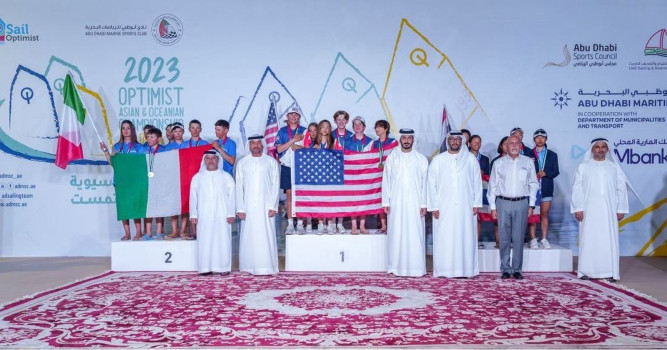 Abu Dhabi, UAE, 4th November, 2023: Italian hopes of a gold medal at the 2023 Optimist Asian and Oceanian Championship were put on hold as the USA carried off the overall team title in Abu Dhabi.
The American quartet of Sander Block, Finnegan Grainger, William Whidden and Sophia Alexopoulos won the opening two matches in the best-of-three final to beat an Italian team which included the regatta's individual leader, Mattia Di Martino.
At the end of a 31-match competitive format which ended in fading light, Thailand finished in the bronze medal position, and also claimed the Asian championship title ahead of Singapore, with Malaysia and the UAE tied for third place.
The results underlined the value of teamwork over individual performance, as none of the triumphant American team had finished inside the top 20 standings on conclusion of the five-race individual qualifiers.
Light winds have been a feature of the regatta, which is being staged by Abu Dhabi Marine Sport5s Club for the first time, but Di Martino had shown an ability to perform in all conditions on his way to four qualifying race victories.
Lying second in the race for the individual gold, Spain's Joan Domingo grabbed the initiative in today's first of the final group of fleet races, with Di Martino having to settle for eighth place.
Thailand's Chanatip Tongglum, holding the bronze medal position at the end of the qualifiers, was black flagged for a race infringement, but the top three were still locked in a tense battle for gold.
Finishing tomorrow, the event is sponsored by Abu Dhabi Ports and Al Mariah Bank, and hosted by ADMSC in cooperation with the UAE Sailing and Rowing Federation, the Asian Sailing Federation, and Abu Dhabi Sports Council.
The regtatta is the continental championship for Asian and Oceanian nation members of the International Optimist Dinghy Association, which oversees the fundamental class in the world of sailing for the 7-15 year age group, and is marking its 50thanniversary.