Global participation is expected on November 11. Al Qana hosts the Motosurf Challenge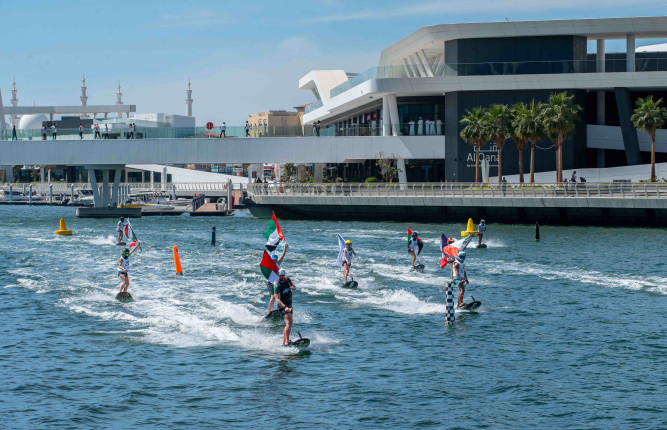 UAE, Abu Dhabi, November 8, 2023: Under the patronage of Sheikh Mohammed bin Sultan bin Khalifa Al Nahyan, Chairman of the Board of Directors of the Abu Dhabi Marine Sports Club, Al Qana will host the Emirates Motosurf Championship competitions and challenges on the eleventh of this November and organized by the club.
The motosurf competitions begin to sail Al Qana again, with the strong participation of the champions of this sport and a renewed presence with the modern marine competition.
Motor surfing competitions recorded their first presence on Al Qana last March in the first marine championship. The flyboard and remote-controlled boat championships were organized last October, so hosting this event is a continuation of the strong competitions organized by the club on the Al Qana.
For his part, Salem Al Rumaithi, Director General of the Abu Dhabi Marine Sports Club, thanked Sheikh Mohammed bin Sultan bin Khalifa Al Nahyan, Chairman of the Club's Board of Directors, and stressed that choosing the channel to hold the race and competitions comes in line with the club's strategy of continuing attendance and organization in various marine destinations in the region. The capital's beaches and vital and touristic places. He said: We continue to organize marine tournaments in Al Qana, as past experiences have successfully managed many tournaments in different marine destinations.
Salem Al Rumaithi thanked the channel's management for the sponsorship provided to hold the race and sports competitions for Motosurf and the excellent cooperation in making the event a success and highlighting it in a way that significantly reflects the capabilities of cooperation between the various parties to enhance and succeed sports competitions and also highlights the marine tourist destinations in the capital, Abu Dhabi.

It is noteworthy that the partnership between the club and Al Qana in organizing the event comes to be the third marine championship held in the canal area. The event will be accompanied by a group of activities and events that will provide the attending audience with the opportunity to enjoy more the competitions that will start on the eleventh of November, in addition to the basic entertainment activities present in Al Qana.