Under the patronage of Mohammed bin Sultan bin Khalifa Al Nahyan, the UAE Wakeboard & Wakesurf championship was held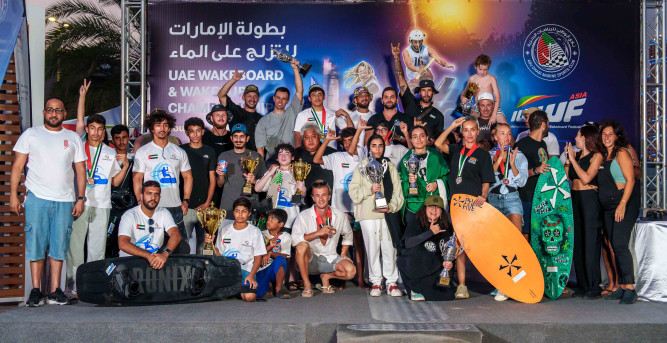 UAE, Abu Dhabi, November 6, 2023: Under the patronage of Sheikh Mohammed bin Sultan bin Khalifa Al Nahyan, Chairman of the Board of Directors of the Abu Dhabi Marine Sports Club, the curtain came down yesterday evening on the competitions of the second round of the Emirates Water Ski Championship, which received strong participation in the various categories of the tournament, exceeding 50 competitors. On the breakwater in the capital, Abu Dhabi.
The competition included water skiing and wake surfing competitions. Saeed Saif Al Nuaimi won first place in the beginner's category of Wake Surf, and Sultan Saif Al Nuaimi came second. In the women's category, Wake Surf, Anna Tsipova achieved first place, Boriana Stefanova came second, and Anna Vasilievla came third. In the professional category, she achieved First place was Stefan Jordanov, second place was Amer El Kalishi, and third place was Dean Setan.
In the water skiing competitions, Karl Al Khazen took first place in the professional category, Ivan Kuzmin came second, and March Walsh came in third. In the women's water skiing category, Hessa Al Qubaisi came in first place, Gayle and Raydan second, and Lynn Dhaher came in third. In the men's beginners category, Saeed Saif Al Nuaimi took first place. Hassan Al Zaabi came in second, and Saeed Al Nuaimi came in third. In the junior category, Ali Saif Al Mazrouei achieved first place, Abdul Rahman Al Nuaimi came in second, and Kobe Walsh came in third.
The water skiing qualifiers continued over two days, as the qualifying qualifiers were held on the first day and continued on the second and closing day of the competition.
Ultimately, the winners were honored by Nasser Al Dhaheri, head of the modern racing department at the club, Khaled Al Ali, race referee, and Paul Vaughn, executive director of the International Water Ski Federation.
Nasser Al Dhaheri greeted all the participants and nationalities attending the competition, as he stressed that the event's strength came from the diversity of participants and the distinguished presence in the various categories. He said: The tournament attracted a large and broad international presence and witnessed strong participation, as we followed over two days. Al Dhaheri added: It is one of the modern marine sports that achieves a lot. It is entertaining for its practitioners and also allows them to enter into the atmosphere of distinctive sports competitions.
Nasser Al Dhaheri confirmed that the competition location, which is close to water currents in the breakwater, helped ensure that the competition atmosphere was held in an ideal place for both categories and allowed the champions to present their best level through the challenge.