Motosurf Championship achieves high technical excellence in five categories, and the participation of 50 racers on Al Qana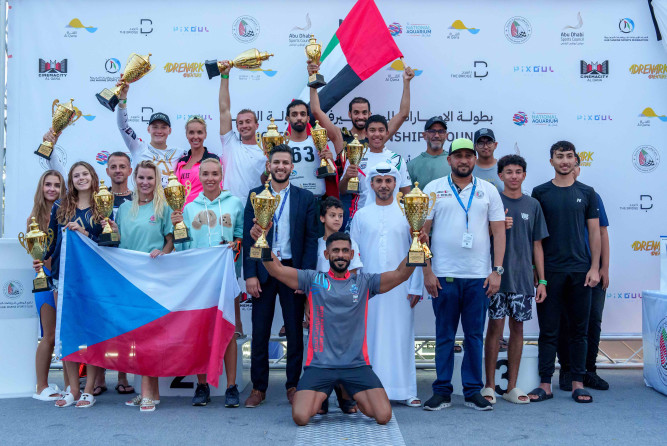 UAE, Abu Dhabi Al-Qanat, November 11, 2023: Under the patronage of Sheikh Mohammed bin Sultan bin Khalifa Al Nahyan, Chairman of the Board of Directors of the Abu Dhabi Marine Sports Club, closed the strong competition for the third round of the Emirates Motosurf Championship, which was held in the Al-Qana area, with distinguished participation of more than 50 competitors in five categories of the championship, amid a dazzling crowd that decorated the place and the competitions that took place from early morning until the end of the day.
The results were strong in all categories of the tournament, as Emirati Obaid Mohammed Al Hameli achieved first place in the Rocky category, the second was Dean Seaton from Kenya, third was Emirati Saeed Al Hameli, and in the Junior category, Kuwaiti Hamad Al Haddad achieved first place, the second was Linda Lockscheider from the Czech Republic. A third was Fares Ramadan from Kuwait.
In the women's category, Linda Lockscheider from the Czech Republic came first, Anna Vasilieva from Bulgaria came second, and Martina Lockscheider from the Czech Republic came third. In the Masters category, Alex Lockscheider from the Czech Republic came first, Mubarak Al-Fadl from Kuwait came second, and Hamad Al-Haddad from Kuwait came third. In the Challenger category, he came in... First place is Mubarak Al-Fadl from Kuwait, second is Jiri Kisla from the Czech Republic, and third is Obaid Mohammed Al-Hamli from the Emirates.
The winners were honored at the end by Khalifa Al Rumaithi, head of the heritage racing department at the club, Ahmed Al Taher, general supervisor of the race, and Sami Tawfiq, representative of the channel.
The round was characterized by excellent technical success through the site, which is hosting the competitions for the second time after hosting last March, in addition to the significant interaction of the public with the competition throughout the race periods.
For his part, Khalifa Al Rumaithi, Head of the Heritage Racing Department, thanked the management of the Canal Walk, which provided all the facilities to host the event and hold the race, as it contributed in partnership with the Abu Dhabi Marine Sports Club to produce the competition in an ideal and integrated manner. Khalifa Al Rumaithi stressed that motorcycle races have an international character through The diversity of participants and nationalities in the competition. He said: The ease of transporting the competition and sports boards allowed us to witness an international presence in the tournament, and it is one of the most important tournaments for us in the series of modern sports, which indicates that the tournaments are continually developing for the better.