«Flyboard» Presents the most beautiful Show in Abu Dhabi breakwater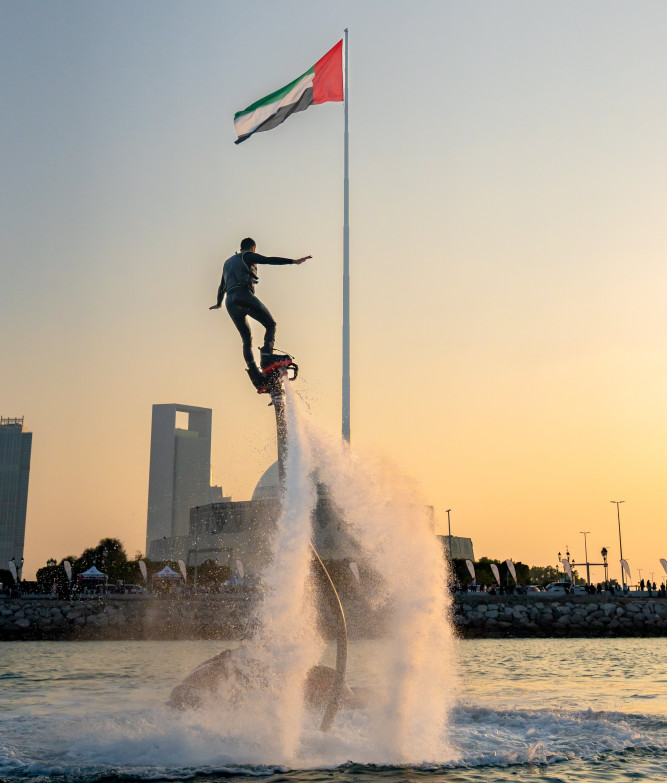 Abu Dhabi, Breakwater 30JAN 2023 : The first round of the UAE Flyboard Championship, which was held on the breakwater yesterday, It was a great success in terms of the number of participants and categories in the championship.
In Pro category the first place goes to Majed Habib Al-Marzouqi, while Saud Al-Hammadi came second, and Jamal Al-Janahi came third.
The participants were creative through their various show movements that contributed to creating an atmosphere of fun for the audience. In Novice category, Muhammad Hasher Al-Falasi achieve first place, and Khaled Juma Al-Falasi came second, and Saeed Al-Falasi came third.
Majid Al Marzouqi, thanked the Abu Dhabi Marine Sports Club and said: "Some of the contestants faced technical malfunctions before and during the show, but everyone succeeded in presenting a special day." For his part, Jamal Al-Janahi spoke; The place was very close to the audience and gave them the opportunity to follow the show closely and perfectly, and also the large audience that attended to the competition it was remarkable and one of the elements of success for the competition. The number of participants, which reached 14 contestants, reflects the spread of the tournament among the youth.