Abu Dhabi Marine Sports Club set to host Final round of Aquabike championship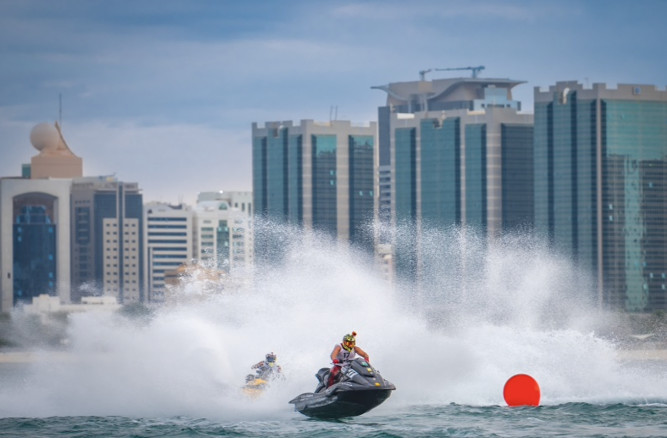 Abu Dhabi 12 February 2023: Abu Dhabi Marine Sports Club set to host the fifth round of the Aquabike championship.
11 Categories Mark the End season in Abu Dhabi, The curtain will be dropped on the fifth and final round of the UAE International Jet Ski Championship tomorrow, which will be held at Abu Dhabi's Breakwater in an exciting scene that brings 60 competitors participating in the championship together in 11 categories.
Abu Dhabi Marine Sports Club will organize the championship's final round in a solid and successful continuation of the local season full of various modern and heritage marine championships.
The competition is scheduled to start today within two phases, as the morning phase will include ten categories, beginning with the Standing GP1 category, then the Seated GP3 category, followed by the Standing GP2 category, followed by the Seated GP2 category, and then the fifth category; the Standing Junior category, which will include three categories for juniors, then the seated GP4 category, after which the professional category starts. Fifteen minutes have been allocated for each of the previous categories; following that, all teams rest in preparation for the evening and final stage, which will start exactly at 2:30 pm in the same order as the morning categories, joined then by the show category, which crowning winners of this round and the entire championship will follow.
For his part, Nasser Al Dhaheri, the General Supervisor of the race, thanked Sheikh Mohammed bin Sultan bin Khalifa Al Nahyan, Chairman of the Board of Directors of Abu Dhabi Marine Sports Club, and saluted the participants and those coming through the UAE, stressing that this round will form a great challenge and strong competition among the participants who are looking to rank the first positions. Al Dhaheri noted that the match would be intense at the fifth round and the final stage of the Jet Ski championship, primarily as it will determine the season's champions in all categories.
"As we watched the great excitement of the last four rounds, today we will witness equal excitement and strong competition among the participants to reach the first positions in each category and continue to collect points. This round will continue this excitement and challenge among the participants," he said.
Al Dhaheri expressed his sincere success wishes to all the participants in the championship's final round, held on the capital's Corniche, one of the distinguished places for organizing closed marine races, away from the water currents and waves that may affect the Jet Skis and the participants.