ABU DHABI F1 TEAM READY TO QUALIFING TOMORROW IN LAKE TOBA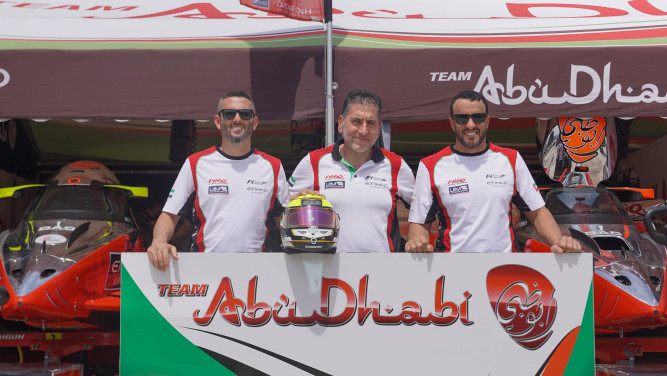 Indonesia, Kopiko 24 Feb 2023: Formula one powerboat, held in Lake Toba, Kopiko in Indonesia, through the best time race and the challenge of reaching the highest speeds in qualifying tomorrow's, in which the stars of the game from around the world participate.
The Emirati team begins the journey to defend the championship title with the first rounds and in the speed competitions tomorrow, which will be launched in various qualifiers for a full hour.
The competition will take place on Lake Toba for the first time in Indonesia. The Abu Dhabi team delegation arrived early on the island a few days ago to mentally prepare for the competition, adapt to the change of weather and the number of hours, and prepare the boats before entering the competition.
In this round and season, Abu Dhabi boats will carry numbers 1 and 2 after the team won the championship title last season and regained its favorite numbers again. Thani Al Qamzi, captain of Abu Dhabi boat 2, and Sean Torrente, captain of Abu Dhabi boat 1, aspire to achieve the highest speeds today in the race for the best time and reach the front. Starting tomorrow, in the primary race of the round, score a strong start in the opening round to compete for the championship title and defend it.
The Abu Dhabi 1 boat had a severe accident in the final round race of last season in the Sharjah round. The technical staff worked on preparing and repairing the boat before the tour, in addition to numerous tests to compete in the opening round, as the boat became ready to race with the Abu Dhabi 2 boat for Al Qamzi. The opening rounds always bear news Sarah for the Abu Dhabi team, which won first place in the opening round in the last four seasons.