Torrente wants super show in Indonesia after winds blow out grand prix qualifying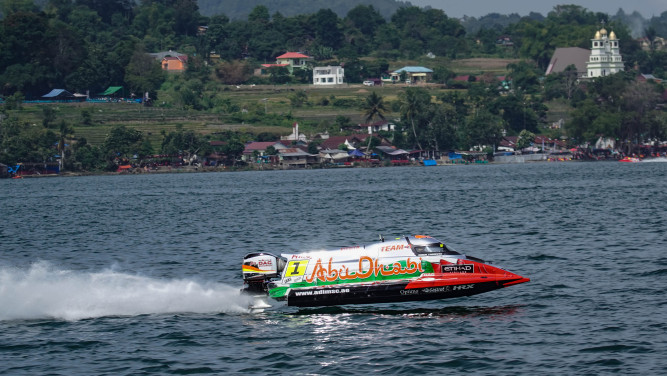 Team Abu Dhabi's defending world champion aims to serve up a thriller for huge crowds
Abu Dhabi, UAE, 25th February, 2023: Defending champion Shaun Torrente wants the UIM F1H2O World Championship to turn on a super show tomorrow after today's qualifying for the Grand Prix of Indonesia was postponed because of strong winds.
The Team Abu Dhabi driver is determined to serve up the best action and excitement for the huge crowds gathered around volcanic Lake Toba for the opening round of the championship in North Sumatra.
"It was really tough out there, and it wasn't really possible to race safely," said the three-time F1H2O champion. "There were large rollers which were really close together, so it made it impossible to run the boats. It's unfortunate, because the venue is incredible.
"The amount of support is amazing. For free practice this morning, there was easily 50-60,000 people on the bank. And just now, when I was coming in, there was well over 100,000.
"There were people completely around the race course. I really hope we can put on a great show for them tomorrow."
Torrente had clocked the second fastest time in the morning practice period behind Sweden's Jonas Andersson, the 2021 world champion, with Team Abu Dhabi's Thani Al Qemzi recording the fifth best time.
With Al Qemzi having topped the lap timings in the opening practice session 24 hours earlier, Team Abu Dhabi are in prime condition to pursue a sixth successive F1H2O team crown.
And their plans to make a flying start to the season, as they did last year when Torrente won the first two rounds, will not be disrupted by today's postponement, which switched qualifying to tomorrow morning, just hours before the inaugural Grand Prix of Indonesia.
"As for everything being in one day, we've done this before," said Torrente. "We'll just adjust a little bit. I was super happy with the boat this morning.
"I made my time in very difficult conditions, and Jonas just beat me. Nobody else could beat me in clean water, so I'm really happy. The team has done a great job to prepare, as usual, so onwards and upwards."
Torrente and veteran team-mate Al Qemzi have gained extra motivation from the return to the championship of Dubai's Victory Team, with Erik Stark and Emirati Ahmed Al-Fahim added to Sharjah Team's Sami Selio and Ferdinand Zandbergen making a three-sided UAE rivalry.