TORRENTE ACCEPTS BLAME FOR DOUBLE SETBACK AS MARSZALEK CLAIMS FIRST WIN IN INDONESIA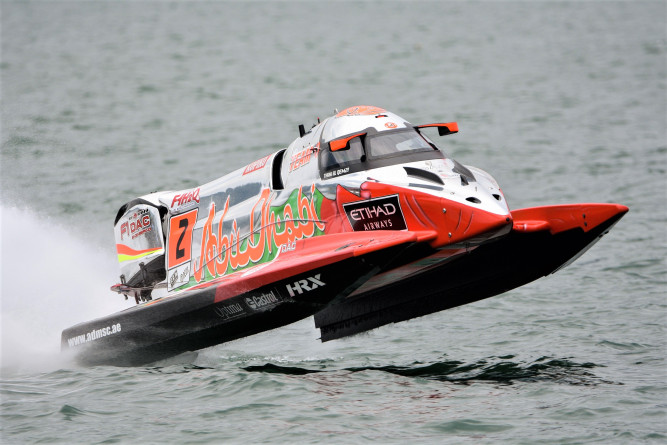 Team Abu Dhabi's defending world champion says he'll bounce back as weather brings dramatic season opener to premature finish
Abu Dhabi, UAE, 26th February, 2023: Shaun Torrente says he will quickly bounce back after beginning his title defence in the UIM F1H2O World Championship with a double disappointment today as strong winds brought a premature end to the Grand Prix of Indonesia.
The Team Abu Dhabi driver and defending champion looked to have begun the season with a dramatic opening round victory as he was first to the finish line in race one, before race officials ruled he had made a jump start.
It followed an earlier setback in the morning's qualifying session when the three-time F1H2O world champion thought he had clinched an 11th career pole position, only to have his best time ruled out for a course infringement.
The two incidents resulted in a first pole position, and a first career Grand Prix victory, for Polish driver Bartek Marszalek. The day's second scheduled race was later called off after just two laps when powerful winds made racing conditions hazardous.
"To begin with, I want to congratulate Bartek on his first win," said Torrente. "He deserves it. We had a good race, and he didn't make any mistakes. I'm very pleased for him."
"I can handle losing. In this sport, you lose more than you win. But I'm angry with myself. I let the team down, after all our preparation and everything we did this weekend. I won the race on the water, but gave it away.
"I feel bad for the team as they were fantastic, as usual, and deserved the win. But I'll pick myself up quickly and move forward.
"I had pole, then it was gone, from just a timing error. Then after starting second, I jumped by a little bit. I still had a good race, but that's the way it goes."
With an estimated 100,000 spectators lining the shores of volcanic Lake Toba following Saturday's postponement through strong winds, race officials chose to split today's Grand Prix into two, shortened 18-lap races after the morning qualifying session.
Starting race one from pole, Marszalek held off Torrente until Team Sharjah's Ferdinand Zandbergen crashed out to bring a yellow flag in the closing stages.
Torrente powered his way past the Pole from the re-start, moving clear over the last two laps as he looked to have repeated his opening round victory last season, before his starting infringement brought a one lap penalty, dropping him to ninth.
Marszalek's victory gave him the early lead in the F1H2O World Championship. Sharjah Team's Sami Selio took second spot ahead of Victory Team's Erik Stark, while Team Abu Dhabi's Thani Al Qemzi climbed to fifth after starting in ninth place.