ABU DHABI'S CLASS 3 REVIVAL SETS THE PACE FOR NEW CHAMPIONSHIP TO THRIVE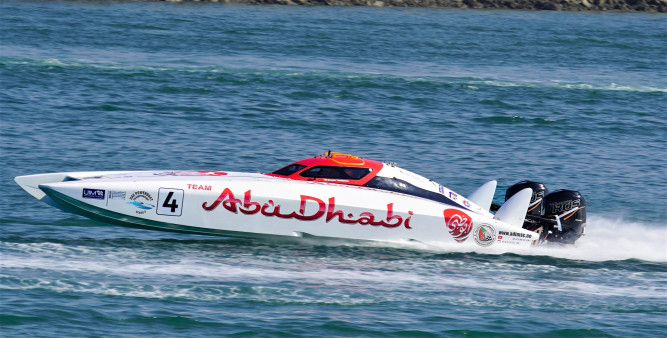 New series expected to quickly attract top challengers worldwide
Abu Dhabi, UAE, 10th March, 2023: The revival of Class 3 powerboat racing in Abu Dhabi this weekend could quickly lead to an influx of top teams from around the world to contest the new UAE championship.
Shaun Torrente and Faleh Al Mansoori, Team Abu Dhabi's former UIM XCAT World Championship-winning combination, have joined forces again for the start of the new series, which is organised by Abu Dhabi Marine Sports Club (ADMSC).
They face stern opposition in the first round of the UAE Class 3 Powerboat Championship from Arif Al Zaffain and Nadir Bin Hendi, who secured the XCAT world title on home waters for Dubai Police in 2021.
Dmitry Vandyshev and Mikhail Kitashev, who took the New Star team to fourth place overall in the same series two years ago, are also in contention, along with Oman's Abdul Latif Omani & Bader Al Dousari.
Team Abu Dhabi's Rashed Al Tayer and Majed Al Mansoori complete the line up in the first round of the series, which began with official practice this afternoon.
Salem Al Remeithi, General Manager of ADMSC, said: "The plan is to stage other rounds later in the year, and then next year to have five to seven events across the Emirates.
"This is just the start, but already teams from other parts of the Gulf and overseas are observing what we're doing, and thinking of joining us next year. We think that in 2024, the championship will attract a lot of top teams from Europe and other parts of the world."
Torrente, the three-time UIM F1H2O world champion, said: "It's great that the championship is back, and hopefully it will thrive. I think it has a great future. Once all the boats are back here for the winter, we can make a really nice championship.
"I raced here in the Class 3 championship 13 years ago. It was an awesome time. It's really good for the racers. The UAE does a wonderful job in hosting us, and there's good prize money as well.
"I'm very happy to be back with Faleh. He's got a real feel for the boat. We have a strong relationship so it should be good. He's a great driver."
Following a second official practice session tomorrow (Saturday) morning on a course set between Lulu Island and the Abu Dhabi Corniche, the pole position qualifier follows in the afternoon ahead of Sunday's Class 3 race.
Captions
1. Joining forces again for Team Abu Dhabi – Shaun Torrente and Feleh Al Mansouri.
2. Torrente and Al Mansouri are back in action in Abu Dhabi 4.