EMIRATI CREW TAKE FAZZA TO VICTORY AS ABU DHABI REVIVES CLASS 3 RACING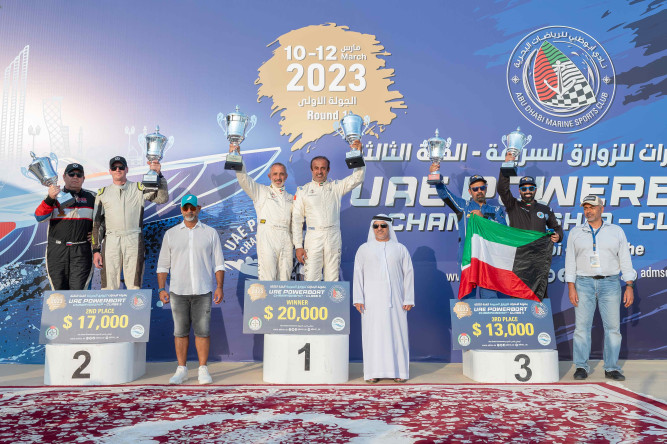 Al Zaffain, Bin Hendi start new championship with a win as mechanical problems hit Team Abu Dhabi
Abu Dhabi, UAE, 12th March, 2023: Arif Al Zaffain and Nadir Bin Hendi led from start to finish in Fazza to secure victory in the opening round of the new UAE Class 3 Powerboat Championship today.
The Emirati crew capitalised on the mechanical problems of Team Abu Dhabi's Shaun Torrente and Faleh Al Mansoori, who started from pole position but went out after six of 13 laps.
The team's technicians had rebuilt the port engine of Abu Dhabi 4 when the boat developed fuel system issues, but the trouble returned and Torrente and Al Mansoori quickly plunged from contention in today's opening race of the new championship.
In contrast, Al Zaffain and Bin Hendi had a trouble-free start to the series, eventually winning by a margin of 55.45 secs from Dmitry Vandyshev and Mikhail Kitashev in Aksum Marine.
Kuwait's Abdul Latif Omani & Bader Al Dousari in Q8 Oil took the third podium place ahead of Rashed Al Tayer and Majed Al Mansoori, who also had problems in Abu Dhabi 5, breaking a propeller shaft and losing a propeller.
The new championship has been launched by Abu Dhabi Marine Sports Club (ADMSC) to revive Class 3 powerboat racing. With more rounds scheduled for later in the year, the series aims to attracting leading teams from around the world next year.
Torrente, who raced in Class 3 in the UAE 13 years ago, said: "The club (ADMSC) has done a great job with the event overall, and we're sure it can go from strength to strength.
"Unfortunately, this was a tough day for us, but that's racing. We knew we had problems. We rebuilt the port side engine three times, and it is what it is. We still had the same problems in the race. Congratulations to Arif and Nadir on the win. We'll be back."
Captions
1. Arif Al Zaffain and Nadir Bin Hendi clinched a comfortable victory in Fazza.
2. Dmitry Vandyshev and Mikhail Kitashev took second place in Aksum Marine