TORRENTE DENIED ON DAY OF DRAMA IN CHINA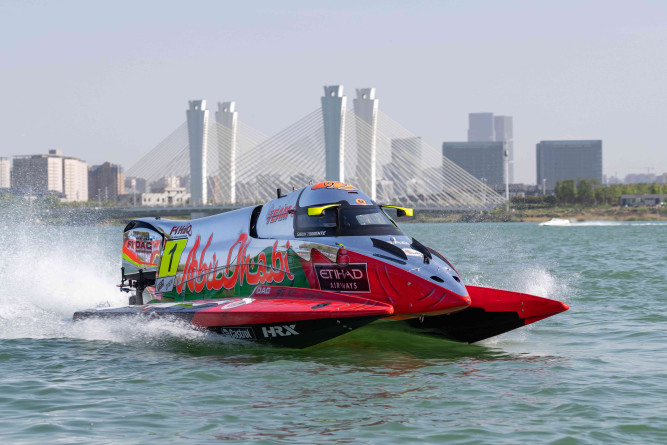 Team Abu Dhabi's three-time world champion loses pole position
as fastest lap is wiped out
Abu Dhabi, UAE, 29th April, 2023: Team Abu Dhabi's Shaun Torrente was denied pole position for tomorrow's Grand Prix of Zhengzhou after a dramatic climax to qualifying for the second round of this year's UIM F1H2O World Championship in China.
The three-time world champion looked to have won the qualifying shoot-out with a blistering fastest lap on a day dominated by treacherous changing wind conditions on the Yellow River.
But after reviewing a close encounter between Torrente and Sharjah Team's Sami Selio at the end of the session, race officials wiped out both drivers' best laps.
As a result, 2021 world champion Jonass Andersson took pole position from Frenchman Peter Morin, with Torrente dropping to fourth on tomorrow's starting grid, with Selio third.
Torrente said: "I just didn't know he (Selio) was there, so I just pushed to make one more lap before the end of the session because I knew the water was good, and I guess I took his line."
The setback will only increase Torrente's desire to maintain his winning habit in China, where he scored Grand Prix victories in 2018 and 2019 en route to his first two F1H2O world crowns.
Team Abu Dhabi's Rashed Al Qemzi will start in seventh place after agonizingly missing out on the chance to battle for pole position following a brilliant start to the weekend.
Torrente had said before the event that Al Qemzi was fast enough to win in China, and the young Emirati was immediately up to speed, setting the fastest lap time in Friday's extra free practice ahead of Andersson, with his team-mate in third.
With Torrente topping today's morning practice session, Al Qemzi impressed again with the third best time to go forward into qualifying with confidence.
But after cruising through the first qualifying stage he was less than a tenth of a second from earning a place in the shoot-out.
For much of the day, strong headwinds turning into crosswinds created hazardous conditions, as highlighted when Australian Grant Trask's boat flipped spectacularly near the end of the second qualifying session.