TEAM ABU DHABI TAKE LEAD IN TITLE RACE AS ANDERSSONSCORES GRAND PRIX WIN IN CHINA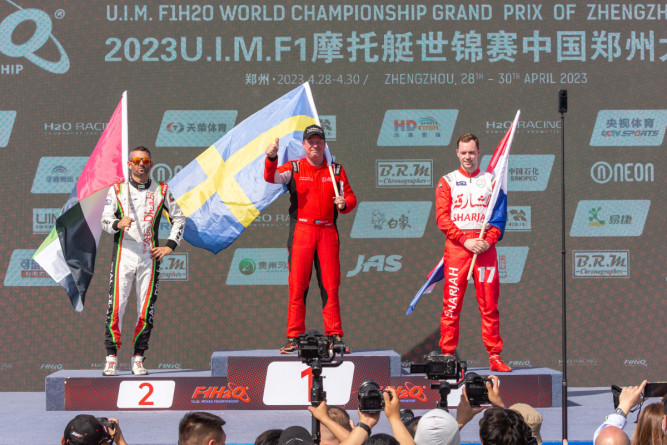 Battling second place sets up Torrente for another tilt at drivers' crown
Abu Dhabi, UAE, 30th April, 2023: Shaun Torrente and Rashed Al Qemzi combined to give Team Abu Dhabi a rewarding end to the Grand Prix of Zhengzhou as Sweden's Jonas Andersson won the second round of UIM F1H2O World Championship in China.
Three-time world champion Torrente battled his way from fourth at the start to second place behind Andersson as the Swede produced an impressive start-to finish win from pole position.
With Al Qemzi taking seventh spot after holding fourth for half of the race, the Team Abu Dhabi duo took the lead in the race for the world team championship, which they have won for the last five seasons.
After losing pole position 24 hours earlier when his best lap was wiped out because of encroachment, defending UIM F1H2O champion Torrente was always up against it as he tried to catch Andersson.
He signaled his intentions from the start, climbing two places on the first lap, but was unable to wind in the driver whom he beat to the world title in dramatic style in Sharjah last December.
Now fourth in the championship, within six points of Andersson, Torrente will be relishing the chance to build another title challenge at the Grand Prix of France in two months time.
Team-mate Al Qemzi completed the race weekend with his reputation confirmed as a rising talent after deputizing for his cousin, veteran driver Thani Al Qemzi.
The young Emirati, who was fastest in the first practice session, again underlined his pace from the start today by rising three places up the field before eventually having to settle for seventh where he had started.
Team Abu Dhabi now hold a one-point lead in the team standings from Sharjah Team, who's Dutch driver Ferdinand Zandbergen secured the third podium place in China.
Victory Team's Erik Stark took fourth spot to move to second in the championship standings. Poland's Bartek Marszalek, winner of the opening round in Indonesia, and Sharjah Team's two-time world champion Sami Selio, were among the non finishers.
UIM F1H2O World Championship leading positions
Jonas Andersson 23pts
Erik Stark 21
Bartek Marszalek 20
Shaun Torrente 17
Sami Selio 15
Ferdinand Zandbergen 12
Filip Roms 11
Peter Morin 9
Thani Al Qemzi 7
Brent Dillard 6