Al-Shairi Fishing Competition on Top of the activities in the historic Dalma Festival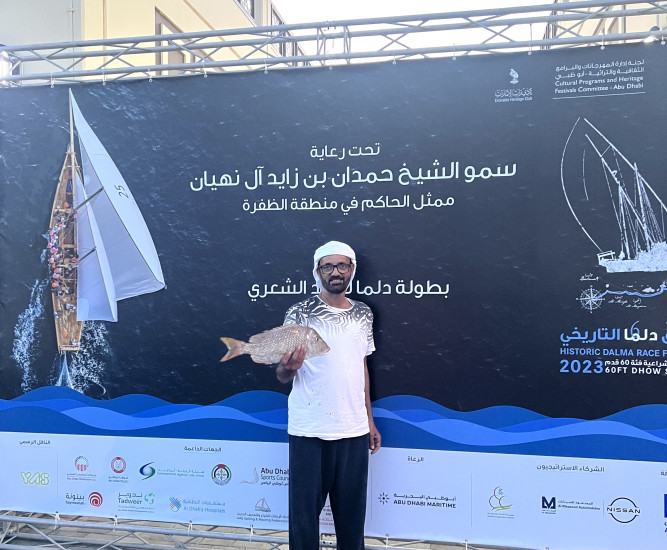 Abu Dhabi - Dalma May 2, 2023: With remarkable success, the activities and competitions of the sixth edition of the historic Dalma Race Festival, which the Festivals Management Committee and Cultural and Heritage Programs in Abu Dhabi, the Abu Dhabi Marine Sports Club, the Abu Dhabi Sports Council, and the Emirates Heritage Club on Dalma Island organize.
The Dalma Poetry Fishing Championship, which started on Friday, April 28, and will continue until next Sunday, May 7, is part of the daily activities of the festival, which includes, in addition to the historic Dalma race for 60-foot sailing bearings, 24 marine, beach, and heritage sports competitions.
The most important regulations of the "Dalma Poetry Fishing Championship" are summarized in traditional fishing methods, "the hook, the traditional thread"—the highest weight for each contestant.
The poetic fishing championship is consistent with the goals of the historic Dalma Festival, seeking to activate and revive the local marine heritage aspect and to acquaint the public, whether residents or tourists, with the importance of marine heritage and the heritage of the UAE islands, in addition to encouraging the local community, supporting productive families, reviving the local market of the island, and consolidating the festival's status as a destination: tourists and new sports.