Abu Dhabi Powerboats" begins its participation in the Formula 4 World Championship in Italy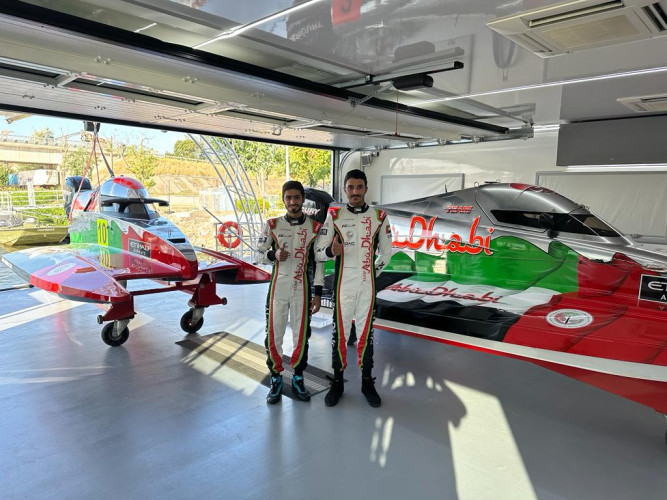 Abu Dhabi, August 3, 2023: The Abu Dhabi Powerboat Team will begin tomorrow participating in the first round of the Formula 4 World Championship in Italy, which will continue until next Sunday.
The Abu Dhabi team participating in the tournament includes Salem Al-Yafei and Ahmed Al-Rumaithi in their first appearance and participation with the UAE team in this tournament. In contrast, they previously participated in the UAE Formula-4 Boat Championship.
The championship begins tomorrow with a technical examination and official registration in the championship, after which the best-time race and the first main race start; then, the competition will be completed next Sunday with the best-time race as well as the second and final race of the round.
Nasser Al Dhaheri, Head of the Modern Racing Department at the Abu Dhabi Marine Sports Club, thanked Sheikh Mohammed bin Sultan bin Khalifa Al Nahyan, Chairman of the Board of Directors of the club, for his continuous support and constant follow-up to the Abu Dhabi team in all its branches and its participation in all international tournaments and participation.
He stressed that participation in the world championship achieves more than one goal, including equipping and refining the skills of the young generation and allowing it to interact and engage with international competitors in this category, in line with their vision of making champions and preparing them to compete in world championships.
Al-Dhaheri said: There was an experience for Al-Yafei and Al-Rumaithi in the Emirates Championship for more than one season, and they were chosen from among a large group due to their talent and excellent capabilities, and now they are participating for the first time in an international tournament, to acquire various skills and refine the experience.