RASHED READY FOR BIG TEST AFTER TOUGH DAY IN LITHUANIA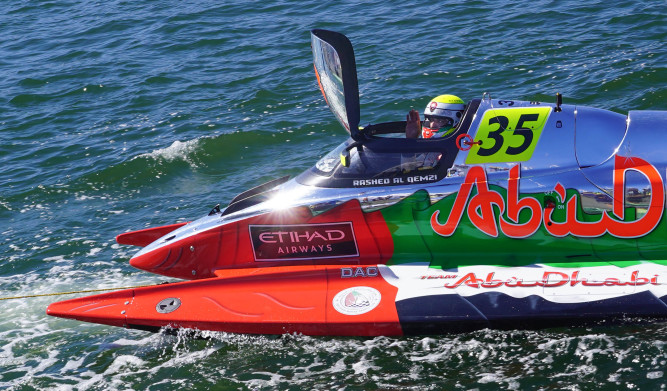 Team Abu Dhabi's triple world champion in the mood for new title challenge
Klaipeda, Lithuania, 12th August, 2023: Team Abu Dhabi's Rashed Al Qemzi faces another stern test today in Grand Prix of Lithuania as he launches his bid for a fourth drivers' title in the 2023 UIM F2 World Championship.
Driving a brand new DAC in the opening round of the series, Al Qemzi had to be content with fourth place in qualifying as Monaco's Giacomo Sacchi snatched pole position ahead of Estonian rookie Stefan Arand and Norway's Tobias Munthe-Kaas.
On a day characterized by hazardous conditions, with the boats at times bouncing over waves stirred by the wind, Team Abu Dhabi's Mansoor Al Mansoori qualified in sixth place from the qualifying shoot out.
Al Qemzi, who scored Grand Prix victories in Lithuania in 2017 and 2019 on the way to two of his world titles, will now look to summon up a big challenge from tomorrow's race start to give himself the chance of another victory.
It was always going to be a difficult day to start the new season, with the race organisers being forced to move the course away from the harshest conditions in Klaipeda, the city on the Baltic Sea.
With the rough waters troubling all the drivers and making racing very much a test of nerve, Al Qemzi set the fastest time in the first qualifying session ahead of Mette Bjerknæs and team-mate Al Mansoori.
In conditions showing no sign of easing, Al Mansoori and Al Qemzi moved into the six-boat qualifying shoot-out in fourth and fifth spots as Arand went quickest from Munthe-Kaas and Sacchi.
Half way through the final qualifying session Al Qamzi held the fastest time, before losing it after a yellow flag briefly halted proceedings because of a problem with the timing system.
Team Abu Dhabi have embarked on the new season driven by optimism and determination, Al Qemzi looking to add to his three F2 crowns, and Mansoori also aiming for the top spot following his third place overall finish in last year's championship.
With a mix of heavy experience and rising talent, including seven drivers making their F2 debuts, today's starting line-up was reduced to 18 boats when Lithuanian newcomer Egidijus Dagilis failed to pass scrutineering.
Winds churning up high rollers made the free practice session a battle of the brave, and Al Qemzi and Al Mansoori were third and fourth fastest as Sacchi set the early pace from three-time former F2 champion, Britain's Colin Jelf.